(please excuse the ugly layout of the blog. I want to display bigger pictures so pardon it's blandness while I find a proper layout)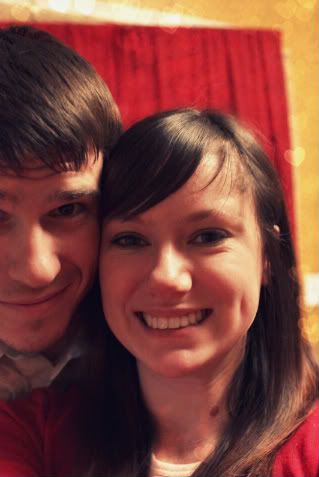 This is the only good picture we were able to get together. I'm the cute one anyways : P
I first came home sort of in a crummy mood because Justin worked doubles Saturday and we wouldn't be able to celebrate V-day. Most people think that V-day was created by greeting card companies and tend to opt out. I differ! I have always been thrilled for Valentine's Day, my birthday is the 4th so February has always been a fun, colorful, cake and candy filled, lovely month! Plus, I love any excuse to celebrate ANYTHING! So you can see my dilemma. Here I was thinking that I would be forgotten this year, but, when I opened our front door there sat a display of 5 hot pink roses, 20 cans of Dr. Pepper the "Fir Tree Couple Print" that I found on Etsy, and the best love letter I have read in a long while! He totally beat me this year. I got him flowers too, but we both know I enjoy them more. When Justin was a kid he loved reading the dictionary, remembering this little fact I purchased this:
I know he'll love it! *still waiting on delivery*
And this is going in a frame above our bed:
Last night I stayed up till 2 a.m. making lots of cupcakes (and taking pictures). They are all gone now (thanks to my primary kids, justin and his young men and the neighbors). They were way fun to decorate! I also wore my new grandma style shoes (refer to collage) to church along with a floral high waist skirt and red cardigan to be festive.
Anywho, that's how I roll. Hope Valentine's Day was an awesome excuse for you to do something extra sweet for the one you love. Goodnight!
-Val